Head to Head Manchester United Vs Arsenal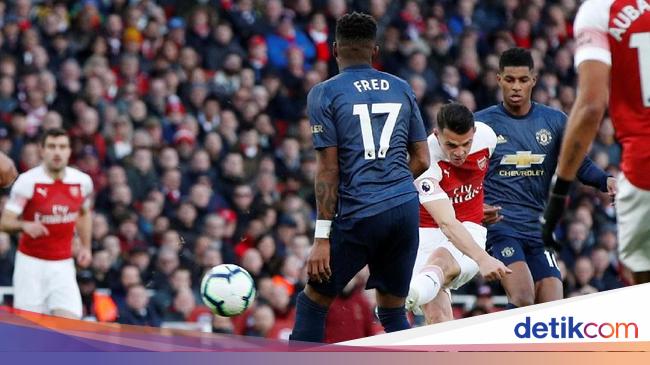 Jakarta – Pekan ketujuh Liga Inggris mempertemukan Manchester United vs Arsenal. Setan Merah memang tengah pincang, tapi masih dominan atas The Gunners di Old Trafford.
Duel MU vs Arsenal akan digelar di Old Trafford, Selasa (1/10/2019) dinihari WIB. Menatap pertandingan ini, tuan rumah dalam kondisi tak ideal.
MU kehilangan dua penyerangnya karena cedera, Anthony Martial dan Marcus Rashford. Dengan demikian, Ole Gunnar Solskjaer tinggal punya Mason Greenwood dan Tahith Chong di posisi penyerang.
Arsenal pun sedikit di atas angin, namun di saat yang sama MU masih punya dukungan riwayat pertemuan. Di Old Trafford, MU tanpa kekalahan dalam lima pertemuan terakhir dengan Arsenal di semua kompetisi (2 menang, 3 imbang).
Terakhir kali MU kalah dari Arsenal di depan pendukungnya sendiri adalah pada Maret 2015 ketika berhadapan di Piala FA. Saat itu MU takluk 1-2 dengan Nacho Monreal dan Danny Welbeck mencetak gol untuk tim tamu, sementara MU mendapatkan gol dari Wayne Rooney.
Catatan kandang MU jauh lebih baik lagi jika hanya menghitung pertemuan di Liga Inggris. Sudah sejak September 2006 MU tak pernah kalah dari Arsenal, tepatnya dalam 12 rentetan pertandingan. Kala itu MU tumbang 0-1 usai dibobol Emmanuele Adebayor.
Tren positif itu yang dipertaruhkan akhir pekan ini. Kekalahan 0-2 dari West Ham United pekan lalu tak membantu David de Gea dkk karena bikin tekanan terlanjur besar. Apalagi MU juga susah payah mengatasi tim divisi tiga, Rochdale, di Piala Liga Inggris.
Sementara buat Arsenal, rekor buruk di Old Trafford bisa menjadi motivasi ekstra. Bagaimanapun, catatan ada untuk dipatahkan.
[Gambas:Opta]
Head to head MU vs Arsenal di Liga Inggris
17 Sep 2006 Manchester United v Arsenal L 0-1 Premier League
21 Jan 2007 Arsenal v Manchester United L 2-1 Premier League
03 Nov 2007 Arsenal v Manchester United D 2-2 Premier League
13 Apr 2008 Manchester United v Arsenal W 2-1 Premier League
08 Nov 2008 Arsenal v Manchester United L 2-1 Premier League
16 Mei 2009 Manchester United v Arsenal D 0-0 Premier League
29 Aug 2009 Manchester United v Arsenal W 2-1 Premier League
31 Jan 2010 Arsenal v Manchester United W 1-3 Premier League
13 Des 2010 Manchester United v Arsenal W 1-0 Premier League
01 Mei 2011 Arsenal v Manchester United L 1-0 Premier League
28 Ags 2011 Manchester United v Arsenal W 8-2 Premier League
22 Jan 2012 Arsenal v Manchester United W 1-2 Premier League
03 Nov 2012 Manchester United v Arsenal W 2-1 Premier League
28 Apr 2013 Arsenal v Manchester United D 1-1 Premier League
10 Nov 2013 Manchester United v Arsenal W 1-0 Premier League
12 Feb 2014 Arsenal v Manchester United D 0-0 Premier League
22 Nov 2014 Arsenal v Manchester United W 1-2 Premier League
17 Mei 2015 Manchester United v Arsenal D 1-1 Premier League
04 Okt 2015 Arsenal v Manchester United L 3-0 Premier League
28 Feb 2016 Manchester United v Arsenal W 3-2 Premier League
19 Nov 2016 Manchester United v Arsenal D 1-1 Premier League
07 Mei 2017 Arsenal v Manchester United L 2-0 Premier League
02 Des 2017 Arsenal v Manchester United W 1-3 Premier League
29 Apr 2018 Manchester United v Arsenal W 2-1 Premier League
05 Des 2018 Manchester United v Arsenal D 2-2 Premier League
10 Mar 2019 Arsenal v Manchester United L 2-0 Premier League
Simak Video "Tumbang di Markas West Ham, Setan Merah Kenapa?"
[Gambas:Video 20detik]
(raw/cas)